Public Transportation in San Angelo, 1840 - 1940


The Stagecoach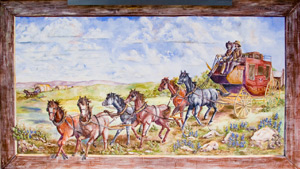 20' wide x 14' high


To hear more about this mural, please click the PLAY button above.
Problems hearing audio? Please click here to update to the latest version of Flash

The first Historic Mural is about early transportation that brought pioneers to San Angelo. The 1840's saw a few hunters and trail scouts and explorers. By 1849, many stayed and settled near the Concho River. A lone marker twelve miles north of San Angelo marks a grave on top of the hill. The marker says Dave Macey died in 1847. The wagon trains brought in families and in the late 1850's Butterfield Stage Line stopped at the still existing Bismark Farm south of San Angelo. One of the more famous stage drivers was Charley Parkhurst who could out-drink, swear and chew with the best of them but not until her death did anyone know that Charley was a woman.

In our mural Crystal Goodman has added "critters" found in West Texas. The horned toads, road runners, armadillos, rattlesnakes, prairie dogs, scorpions and tarantulas as well as the blue bonnets which cover most of Texas in mid-April. The legend of the bluebonnet tells of a drought and a Comanche Indian Chief asking that one of his people give up his most valued possession for the Great Spirit so they might have rain. In the night, the chief's small daughter went to the top of a hill and left her corncob doll with its bonnet of bright blue feathers for the spirit. The next morning, the rain fell and a beautiful field of blue flowers covered the hillside.

The Santa Fe Depot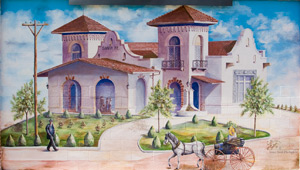 20' wide x 14' high


To hear more about this mural, please click the PLAY button above.
Problems hearing audio? Please click here to update to the latest version of Flash

Built in 1906 was located on the corner of Chadbourne and 4th Street. The details of the craftsmanship in the building were discovered as Crystal explored how to get details from an 8 x 10 black and white photo taken by San Angelo's most remembered photographer, M.C. Ragsdale, and blew them up to a larger scale for the mural. Later she found a 1908 color postcard of the depot which revealed details about the trim on the building which allowed her to make the painting more historically accurate.

The 503 Iron Horse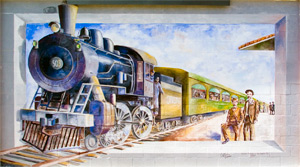 20' wide x 14' high


To hear more about this mural, please click the PLAY button above.
Problems hearing audio? Please click here to update to the latest version of Flash

The 503 Iron Horse was one of the first trains to stop at the depot according to another historian and photographer, Allen Johnston. The engineer and fireman on the mural train are T.A. Jones and A.J. Jones (not related) who operated similar engines in the mid 60's and 70's. The gentlemen waiting on the trunks are from a photo belonging to Helen Arthur Fenton, a native San Angeloan whose father was a conductor. Most of the people on the train are people Crystal thought of as she painted their faces. Rick Smith, a Standard Times Columnist who wrote about the mural is in the front row as a passengermaking notes.

The Cromwell Airlines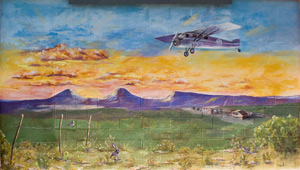 20' wide x 14' high


To hear more about this mural, please click the PLAY button above.
Problems hearing audio? Please click here to update to the latest version of Flash


Carl G. Cromwell brought San Angelo its first air passenger service in 1930. He was one of the most knowledgeable drillers in major oilfields from Pennsylvania, Illinois, and Oklahoma. Cromwell married after World War I, moved to Texas and later became known as an honest, generous and free spirited wildcatter. He is credited by an article in the San Angelo Standard Times with drilling the Reagan County discovery well, the Santa Rita.

Cromwell was an entrepreneur and pioneer aviator. He believed the airplane would replace time-consuming automobile travel. He inaugurated airline service in 1930 between San Angelo, Dallas, Fort Worth and San Antonio. A ticket to Dallas cost $15.00. He named his first plane Miss Carlene, after his daughter. His efforts to establish a successful airline failed, but his company was the forerunner of Trans-Texas Airlines and later Texas International Airlines at Mathis Field.

Crystal again added critters to her mural, such as the roadrunner and jackrabbit. A lone mockingbird sits on a barbed wire fence watching the sunset while a mouse looks at the plane wondering if it is coming over. Indian arrow heads are scattered on the ground and take note of the "brick" wall framing each panel. This too is faux/painted bricks.