Welcome to Historic Murals of San Angelo
San Angelo's historic murals are possible because of the support and donations of our wonderful local citizens. We are also proud of our artists and the outstanding work they have created.

HMSA does not receive funding from city, county, state, or federal entities. We are not affiliated with any other non-profit organizations in town. Contributions to HMSA are dedicated entirely to our mural and facade projects.
We invite you to be a part of our supporters. In 12 years, it has taken over $400,000 to bring these murals to the community and our website visitors. We look forward to YOU becoming our newest supporter. All donations to Historic Murals of San Angelo are tax-deductible.
Indians of Texas Mural


UPDATE 8-25-14: The Indians of Texas Mural is now finished! The 40' wide x 18' high mural can be seen on the west wall of 213 W. Beauregard in San Angelo. Check out the wonderful details of this mural in person or CLICK HERE FOR PHOTOS!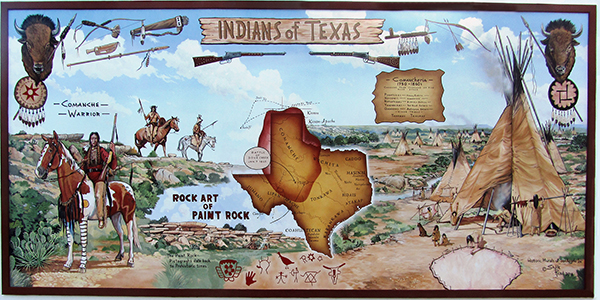 Let There Be Light


We are still raising money for the remaining lights we need to illuminate our murals. Wiring and labor have been generously donated, but we need $10,000 to buy light fixtures for our three largest murals: the Transportation Mural, The Chadbourne St. Mural, and the Ranching Mural. Please show your support for HMSA by donating today!

Click here for printable donation form and mail form and check to:

Historic Murals of San Angelo
P. O. Box 61402
San Angelo, TX 76906

or, donate via credit card using Paypal:
Award-Winning!


Historic Murals of San Angelo has been selected for the 2014 Best of San Angelo Award in the Community Organizations category by the San Angelo Award Program.Each year, the San Angelo Award Program identifies companies that they believe have achieved exceptional marketing success in their local community and business category. These are local companies that enhance the positive image of small business through service to their customers and our community. These exceptional companies help make the San Angelo area a great place to live, work, and play.Various sources of information were gathered and analyzed to choose the winners in each category. The 2014 San Angelo Award Program focuses on quality, not quantity. Winners are determined based on the information gathered both internally by the San Angelo Award Program and data provided by third parties.
Join Our Email List
Email: