Welcome to Historic Murals of San Angelo
San Angelo's historic murals are possible because of the support and donations of our wonderful local citizens. We are also proud of our artists and the outstanding work they have created.

HMSA does not receive funding from city, county, state, or federal entities. We are not affiliated with any other non-profit organizations in town. Contributions to HMSA are dedicated entirely to our mural and facade projects.

We invite you to be a part of our supporters. In 14 years, it has taken over $500,000 to bring these murals to the community and our website visitors. We look forward to YOU becoming our newest supporter.

All donations to Historic Murals of San Angelo are tax-deductible.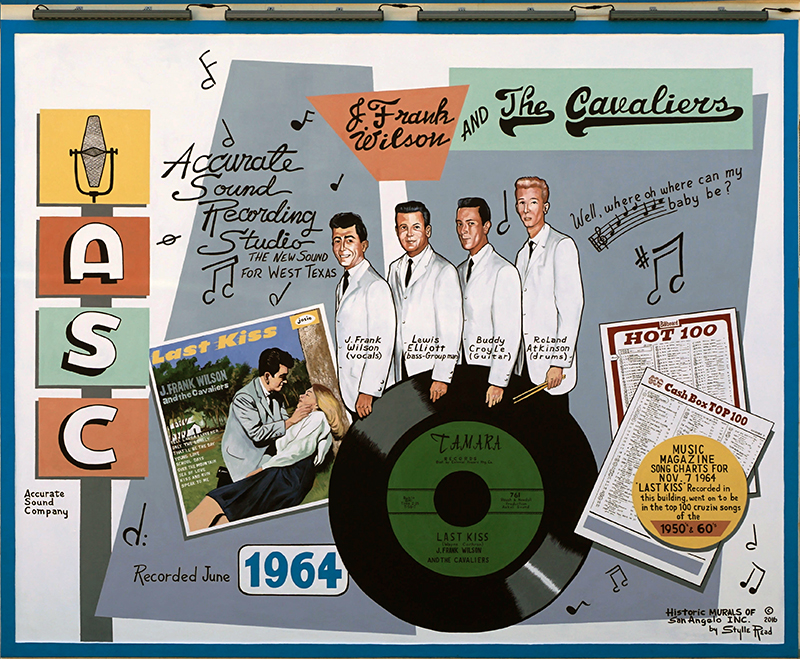 Our Latest Mural


Artist Stylle Read completed work on our latest historic mural, the Cavaliers Mural, which celebrates the legacy of J. Frank Wilson and the Cavaliers. You can see this colorful work of art in person at 15 North Tyler Street. To learn more about the history of this mural, click here.
New Calendars


The latest edition of the June 2016-June 2017 Historic Murals calendar features our newest project, the Cavaliers Mural! We also have HMSA t-shirts and sweat shirts available for purchase at M.L. Leddy's.

Calendars are $15 each and available for purchase at the following locations:


M.L. Leddy's (222 S. Oakes)
Bill's Man Shop (137 W. Beauregard)
Frametech Home Accents (1821 Knickerbocker Rd.)

Download Mail-in Order Form


The historic murals shown on this website and painted on the walls in San Angelo are copyrighted jointly under US Copyright Law with artists Stylle Read and Crystal Goodman and Historic Murals of San Angelo, Inc. Any use of them by any means without permission from HMSA will be in violation of the law.
Join Our Email List
Email: